We've tried several styles of face masks, and our favorite to wear while training aerial is this 3-dimensional style that is designed to sit away from your face. This keeps us much cooler than the alternatives we tried, and makes exercising much more comfortable. Our aerialists have tried a variety of styles and this is their #1 choice.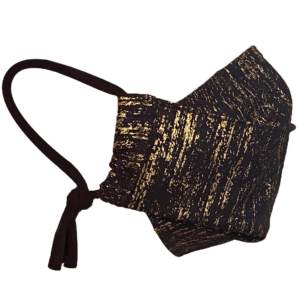 These masks are handsewn. Made from 2 layers of quilting cotton and 1 layer of polyester chiffon sandwiched between. There is a permanent nose wire sewn in which achieves a tight comfortable fit.
Washable and reusable. Made with elastic earloops but can be ordered with elastic head loops as well. There is a limited supply of these masks available for purchase at the studio. Contact us to purchase by mail.
These face masks are not medical grade and are not a replacement for medical grade Personal Protective Equipment.
Remember that the use of face masks is an important component in the fight against COVID-19, but they are not intended to replace other recommended measures including social distancing, washing your hands and refraining from touching your face. Follow the latest advice of the CDC and your own health care professionals as to how best to keep yourself safe.
Questions? Contact us!